R08 - Spielberg - FRECA Race Report
PREMA, Beganovic gain valuable points in rain-affected Austrian race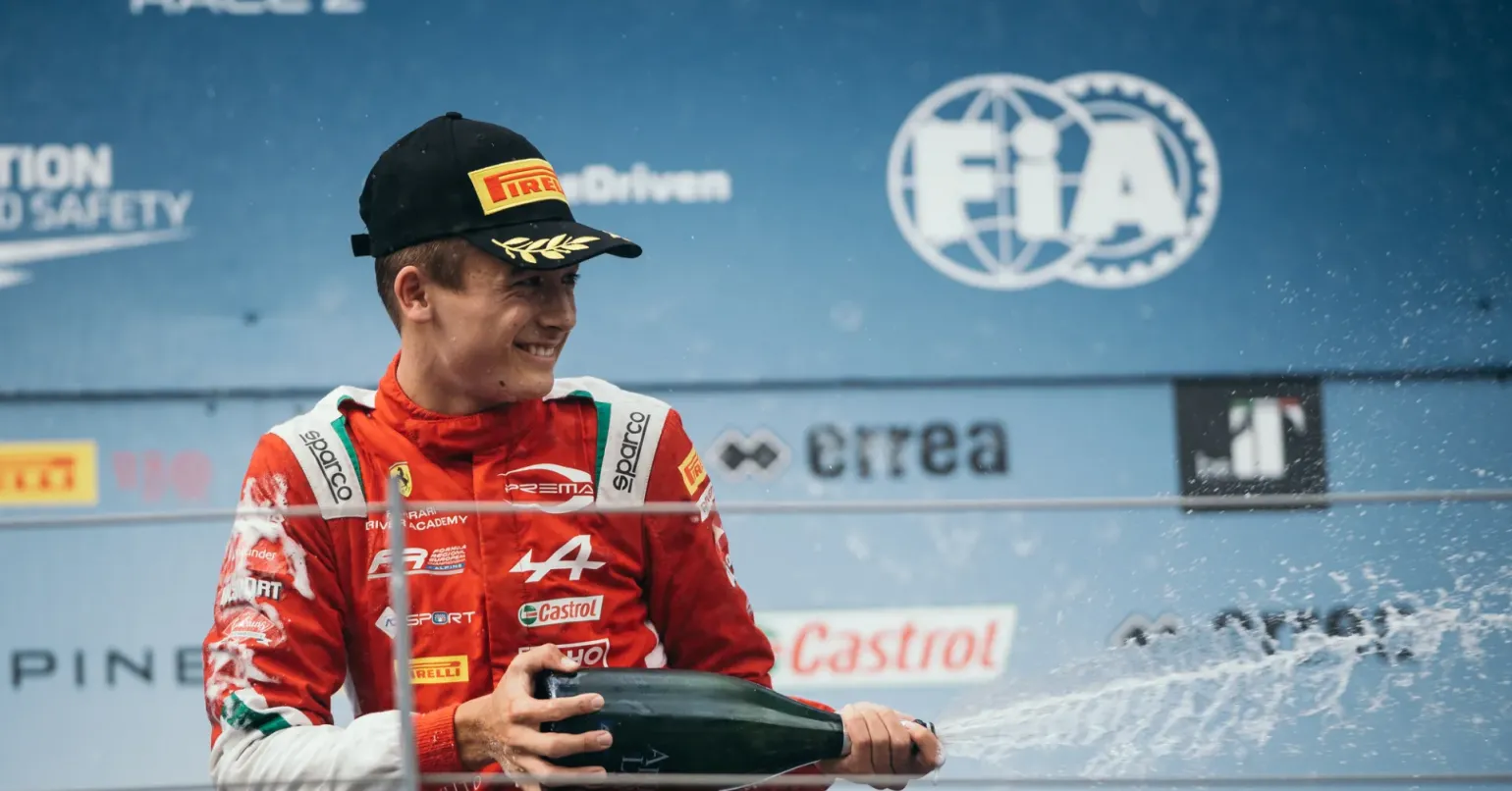 PREMA Racing completed a challenging weekend at Red Bull Ring. The team was able to solidify its lead in the Formula Regional European Championship by Alpine team and driver series with Dino Beganovic taking a podium and a top-5 in the two races held at Spielberg.

Race 1 proved tricky strategy-wise as the start was delayed due to heavy rainfall, and all drivers moved to wet tyres. It also started behind the safety car but the track was still too slippery which prompted a red flag due to many offs. The sun came back out again though, and after the re-start, some of the contenders opted to move to slicks.

Beganovic made the most of his starting position. By staying out on rain tyres and managing them, the Ferrari Driver Academy-supported Swede gained one spot compared to his starting position finishing in P4. In the second race, he held onto P2 from start to finish after leading his qualifying group.

Aron started off the weekend with his fifth pole position of 2022 and was leading when he pitted slicks early in race 1. The strategy didn't pay off, costing him several positions. Unfortunately, contact with teammate Sebastian Montoya saw him end up stuck in the gravel. In race 2, Aron started from P12 but attrition made him lose ground down to P16.

Montoya didn't have an easy weekend either. In Race 1, the Colombian-American was among the first to switch to slicks after impact under safety car which caused him to spin. Despite losing position, he eventually rebounded to P10 although he was later penalized for a pit-lane infringement during the red flag. In race 2, a few mishaps along the way led cost him some valuable ground and he finished in P17.

Hamda Al Qubaisi showed promising pace in dry and wet conditions and secured her best career finish in the championship. The Emirati Female Racer started from P22 on the grid for race 1 and even fought around the top-20 before contact took her down to P29. However, Race 2 went the other way around. After qualifying in P30, Hamda fought back to a brilliant P24 to cap the weekend in a strong fashion.
# 3 – Paul Aron
"I really didn't expect to leave the weekend with zero points, after showing the confidence we had during the testing and even the first qualifying where we got pole position. We felt very strong, started the first race from pole. We were leading the race, we just made the wrong call to pit early and lost it from there. It was a massive loss because a win would have been really good for my championship chances. On Sunday, the qualifying session was a bit tricky overall. We missed a bit of pace and I also didn't put it together. In the race I think we did a good job, we had pace and we were fighting to get in front when we were pushed off. Like Spa and Hungary so much potential and so many different factors not allowing us to use it. It's a shame but hopefully, we will get some luck by our side and put our potential into results."

# 18 – Dino Beganovic
"It was great to be back racing again after some holidays and to score many valuable points. In addition, I extended the championship lead. I was very happy, especially with the second race. Conditions were tough but we managed them perfectly. Now it's time to keep our heads down for one last push and the two final races of the season at Barcelona and Mugello. I really like both tracks and I particularly look forward to Mugello for the finale."

# 58 – Sebastian Montoya
"It was an interesting week where I think I learned a lot and made good progress. Practice was more about adapting myself back to the Regional car coming from F3. Then I think we did a good job in qualy 1 and I did a good job maximizing the lap and putting everything together. The speed wasn't completely there so we had to try something for the race. We made a couple of changes which made it slightly better. In the end, the race was a bit crazier, I got taken out in the first safety car and lost two positions, then we went back to the pits for slicks. Then I had slight contact that actually benefitted me. In the end, the speed was really good, and I was happy with the results although a penalty took away our top-10. For Q2 and Race 2 the speed was great, I just made a mistake in my last lap and that didn't allow me to improve even more. The last race was chaotic and a little mistake from me didn't allow us to score points but the car felt a lot better. We know what to improve, we keep our head down and keep pushing for Barcelona."

# 88 – Hamda Al Qubaisi
"Coming into this weekend after a long break, it was all about getting a good feeling with the car again and getting back into the rhythm. I was quite happy with qualifying on Saturday. However, unfortunately, because of the weather conditions, the race didn't go so well. On Sunday it was a bit difficult to get a good lap in qualy and I wasn't really happy with my performance. On the other hand, I was able to make up a few positions in the race and finished with my best result so far. A big thank you to the team for the support all weekend and looking forward to the next one."