R09 - Barcelona - FRECA Race Report
PREMA wins 2022 FRECA Team Championship at Barcelona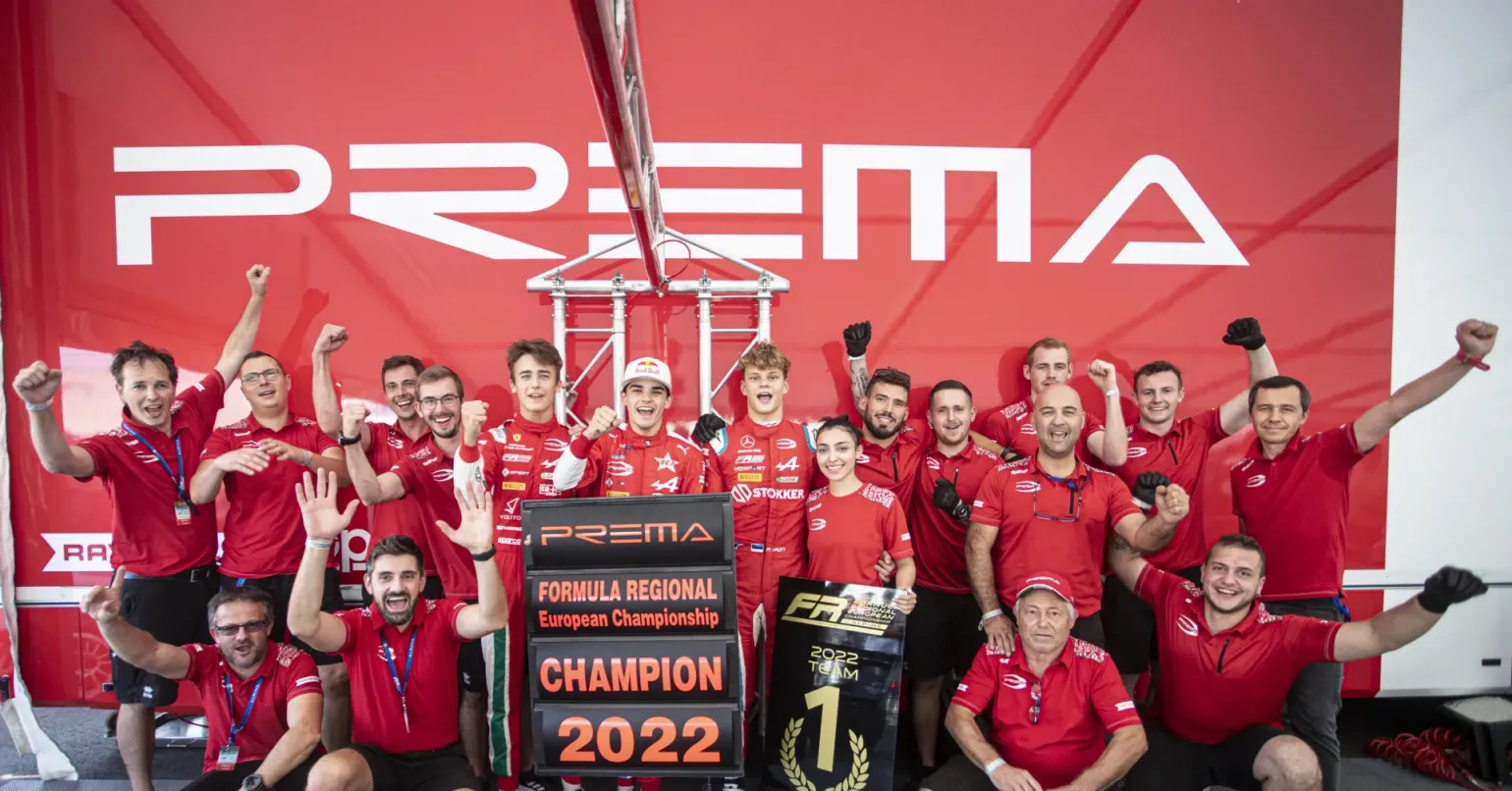 PREMA Racing sealed the Formula Regional European Championship by Alpine Team Title at Barcelona, home to the ninth and penultimate round of the 2022 season. The Italian squad posted one win with Estonian racer Paul Aron, while despite dealing with a tough weekend for him, Swede Dino Beganovic retained a considerable championship lead, while Sebastian Montoya and Amna Al Qubaisi made steady progress all weekend long.

Aron started the weekend in style by dominating qualifying (featuring a single group due to a fog delay) and then going from pole to win in race 1. However, it proved to be a tough race in the final stages, when a charging competitor forced him to a skillful defense. In race 2, Aron claimed P2 in his qualifying group and kept the same position through the finish. Due to the fact that the third-place finisher was a wild-card driver, the PREMA driver was awarded the points for third place, which enabled him to close into second place in points ahead of the Mugello finale.

Beganovic had a more troubled start in race 1 and saw his races conditioned by qualifying, in a series where a few hundreds of a second can make huge differences in terms of positions. Shoved in a gruelling and hard-fighting pack, Beganovic finished just outside the points zone. In race 2, early contact prevented him from showing his full potential, but he still brought home two points and will head to Mugello with a hefty advantage.

Sebastian Montoya didn't have an easy weekend with such a challenging mid-pack but the Colombian-American showed a good progression and a matching pace, staying close to a hyper-competitive top-10 in both races. He is now also looking forward to Mugello, a track he has had good chemistry with since his Formula 4 days.

Amna Al Qubaisi made her FRECA debut on a track where she had never raced before, going back to a Formula Regional car after a few months and with a different technical package than in the Asian series. She still improved session by session, and minimized mistakes through her Spanish journey.
#3 - Paul Aron
"It was a strong weekend for us and a lot of good points for the championship. We dominated the first qualifying and won the first race, which was not easy as we struggled a bit with car balance toward the end. There was another car coming up fast, but we managed to hold off. It was super nice to get back to the top step of the podium, after especially the last few weeks, where we were prevented from scoring the results we deserved by bad luck in the races. I'm super happy to be back to victory and prove our potential. Even on Sunday, we had the potential to be on pole, but I didn't put the lap together. We still finished the race in fourth and got the points of P3. In the end, it was a double podium and another win on the board and hopefully, we can continue this momentum in Mugello."
#18 - Dino Beganovic
"Not the weekend we would have hoped for. I struggled a bit with pick-up on the tyres in qualifying 1, and that compromised the result and obviously the race after that. In qualifying 2 I ended up just five hundreds of a second away from pole in group, but I still started P10. We knew the race would have been tough, we only needed to score points. Unfortunately, we ran the whole time with rear right damage from an early incident. We could have done much more, but we still scored two points for the championship. We have a good lead coming into the final round at Mugello, we're confident, and we'll be pushing one last weekend."
#58 - Sebastian Montoya
"It was a very interesting weekend, and we made a lot of progress, getting better and better. On day 1, qualifying was really strong, and I posted a good lap that put me in the top 10. I didn't get the best start for race 1, and was trying to survive during the whole first lap. I was pushing, going up and down, it was a bit of a mess. We stayed close to the top 10 to try and make some points. In the end, I made a small mistake, but I think it was still a good race. We made good progress into day 2. We were missing a bit in the tyre warmup, which with the delay in qualifying 1 and the warmer conditions, had helped us a bit. In race 2, the pace was really strong. We struggled a bit in the beginning, but in the end, we were one of the fastest cars. The safety car didn't allow us to go until the end, otherwise we could have made a few more positions."
#88 - Amna Al Qubaisi
"Jumping into the car after a while was a bit challenging, as well as driving on a track I'm not familiar with. However, the whole point for me was to get to some laps and mileage done so I could prepare myself better for the upcoming races."