R10 Mugello - FRECA Race Report
PREMA, Beganovic win 2022 Formula Regional European Championship by Alpine title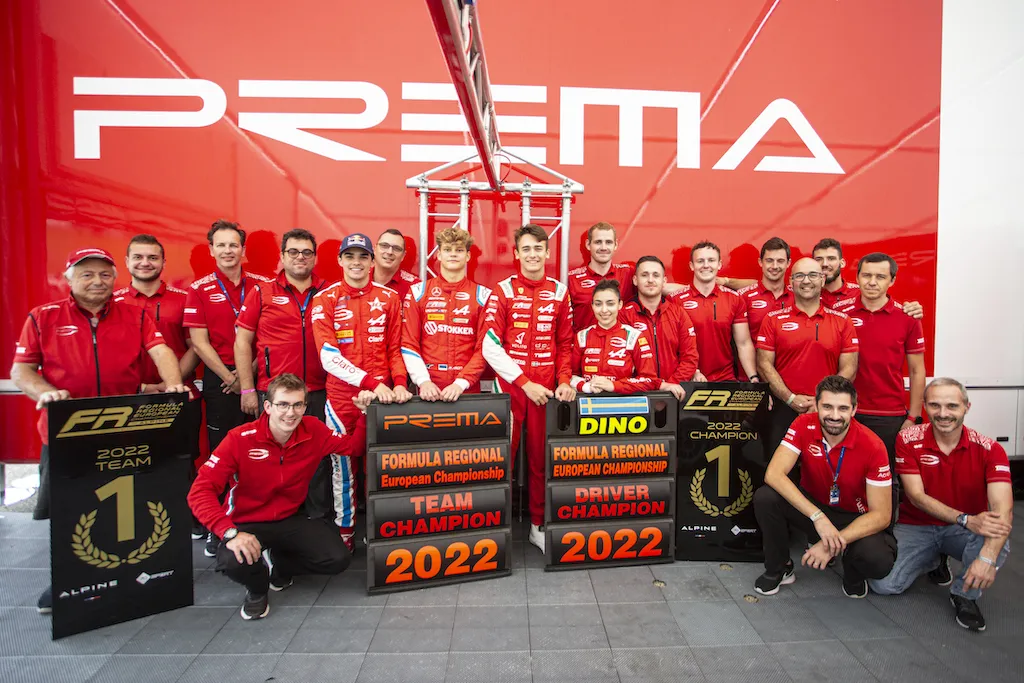 After claiming the Team Title last time around at Barcelona, PREMA Racing wrapped up its 2022 Formula Regional European Championship by Alpine season at Mugello by winning the Driver Title, completing a sensational year-long run by Dino Beganovic.
The Swede mathematically clinched the championship with P5 in Race 1, and then went on to take a podium in Race 2. Overall, the 18-year-old Ferrari Driver Academy racer secured 13 podiums and four wins this season, leading since day 1.
Estonian Paul Aron also experienced a brilliant run at Mugello, delivering another stellar win from the pole in Race 1. Aron established himself as one of the most outstanding competitors of the year, posting a series-high six wins and seven pole positions to end up a close third in overall points.
Colombian-American Sebastian Montoya experienced an up-and-down weekend at Mugello but showed great pace and race craft during the races. Overall he signs off the year with multiple points finishes and five rookie wins.
Amna Al Qubaisi continued to increase his chemistry with the car, having rejoined the team in Barcelona after a long break from racing. The Emirati female racer made consistent improvements.
#3 - Paul Aron
"It's been a great season, PREMA took the team title and the teamwork this year was amazing, I enjoyed every second even though I didn't get the trophy I was hoping for. Last year I finished third, being one of the most consistent guys, despite sometimes not having the pace for wins and poles, while this year, I got the most poles and most wins, and I finished third again. I hope next year to do both and win the championship!"
#18 - Dino Beganovic
"I'm very very happy, and I cannot describe my feelings. It's been an incredible season, and the team has done an amazing job, making a huge step from last year. It's all because of the hard work we did during the winter and in testing. We started well, and we kept our momentum all the way to the end. To be on top from the first race and finish it off with one race to spare is fantastic, it shows we have had an outstanding season. I thank the team, as their work and support have always been spot-on. With the Ferrari Driver Academy, we have worked hard off the track to be prepared and learn after every race. We couldn't have done better, and we did it together. I want to thank my sponsors, without them, it wouldn't have been possible, my friends and family, and everyone who believes in me."
#58 - Sebastian Montoya
"The season has been a bit of a rollercoaster, to be honest, we started very strong, and we showed strong potential in the test days and also in terms of race pace. I think what we lacked a bit was qualifying, and here it's especially important as qualifying is close between the drivers, and one-tenth can put you into the top 5 from P20. The most positive moment was probably the first race in Monza, and to get the rookie win in such tough conditions and being able to maximize the result was really strong. Overall it was an up-and-down year, but mostly up, and we have fought for the rookie championship since Day 1. All of us competitors have been quick in different situations and that proves how strong the rookie field was."
#88 - Amna Al Qubaisi
"It was an unfathomable experience to jump back in the car not being in Europe for almost three years. It was a surreal feeling, but at the same time, it was difficult to adapt to a different car than the one I last drove. Physically I think I improved a lot. The goal was to finish the entire race, improving session after session in Europe. Coming back, feeling nostalgic, and trying to remember and get back to the rhythm was challenging, but I enjoyed it a lot."