R06 - Bahrain - FIA WEC Race Report
Prema ORLEN Team scores P4 in championship finale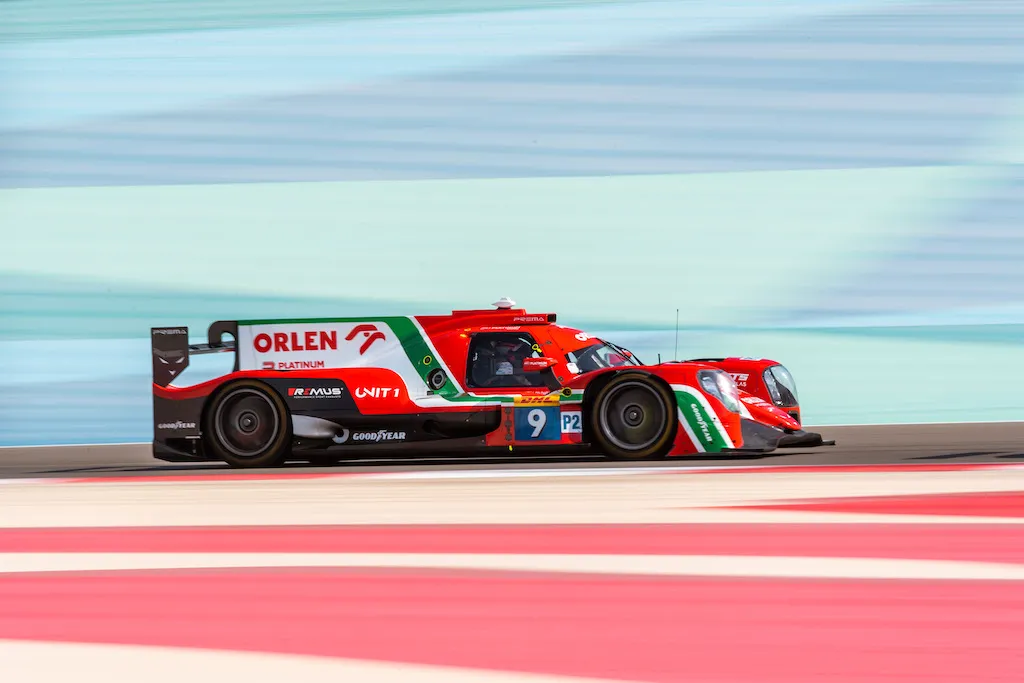 Prema ORLEN Team completed its 2022 season with the 8 Hours of Bahrain today at the famed Grand Prix venue. Lining up to end the year on a high note, the team fought hard for the podium but finished with a positive P4.

The weekend started with promise in practice as the team started work at the challenging desert venue with the goal of fighting for a podium. Unfortunately, qualifying didn't provide the results expected, with Louis Delétraz having to settle for P10. For the race, the crew put up a massive effort on the car, and gains were made.

Robert Kubica started the race and quickly stormed back to P5. An early safety-car situation gave him a restart and the Pole didn't disappoint, moving up to P4. In the following stages, Delétraz and silver driver Lorenzo Colombo stayed in the game with high-profile stints. The Swiss was once again flawless all day long, while the Italian confirmed his status as a front-runner. The fuel-saving strategy set up eventually paid dividends with a full course yellow that promoted the team to P2 around the middle stages. From that point, the team kept fighting in podium contention, also battling a pesky pit equipment issue that slowed down the pit-stop times.

In the end, the late-stopping strategy came close to success. Delétraz put up a phenomenal stint again and when his planned splash-and-go came, only a few seconds separated him and the whole Prema ORLEN Team from their second podium of the season after P2 at the 24 Hours of Le Mans. Coming a long way from the fifth row, the team can now wrap up its first World Championship and Endurance racing season.

Preparations for 2023 will start as early as tomorrow, with the post-season rookie test session.
Lorenzo Colombo
"If we consider the qualifying result and today's race result, we gained a lot of positions. We have been lucky with the full-course yellow that came at the right moment for us, but we also had a very good strategy to make that happen. I can't thank Robert and Louis enough for their amazing pace and amazing job. I just tried to stay with them and learn from what they taught me during my first time in Bahrain. I think the team did a great job as well, we extracted the maximum we could. I think it was a great season, especially the podium at Le Mans, which was our best result. I really thank Prema ORLEN Team for the opportunity they gave me by choosing me as their driver!"
Louis Delétraz
"It was a long race. From qualifying, we saw that we were not so quick this weekend, we tried really everything to do well. We saved fuel, we were a bit lucky with the full-course yellow, and I pushed really hard in my two stints in the last hour to catch up some positions. We managed to go up to P4, which I think was the best result we could have achieved. The season is over, I really want to thank all the people working at Prema ORLEN Team. It was a good year overall, with the ELMS title and a tougher season in WEC, but a lot of good memories, a championship, and victories, so thank you very much, everyone."
Robert Kubica
"I think today's result was the maximum we could have achieved. We definitely benefitted a lot from the strategy. We opted for a lot of fuel saving, in order to also protect our tyres because we were not gaining a lot of time by pushing them more. It paid off. With one full course yellow we got lucky, gaining around 40 seconds which put us into second place. It was looking good and optimistic at some point, but there was a long way to go, and the pace was not the best. We continued with our strategy, saving as much as two laps over the stint on our competitors, and again it paid off because Louis could push with a full set of new tyres for one stint, so we managed to finish P4. Not what we expected, but looking at the overall performance of the weekend, I think it was the maximum we could do."