PREMA Racing announces full line-up for 2023 FIA WEC season
Talented driver pool to highlight two-car operation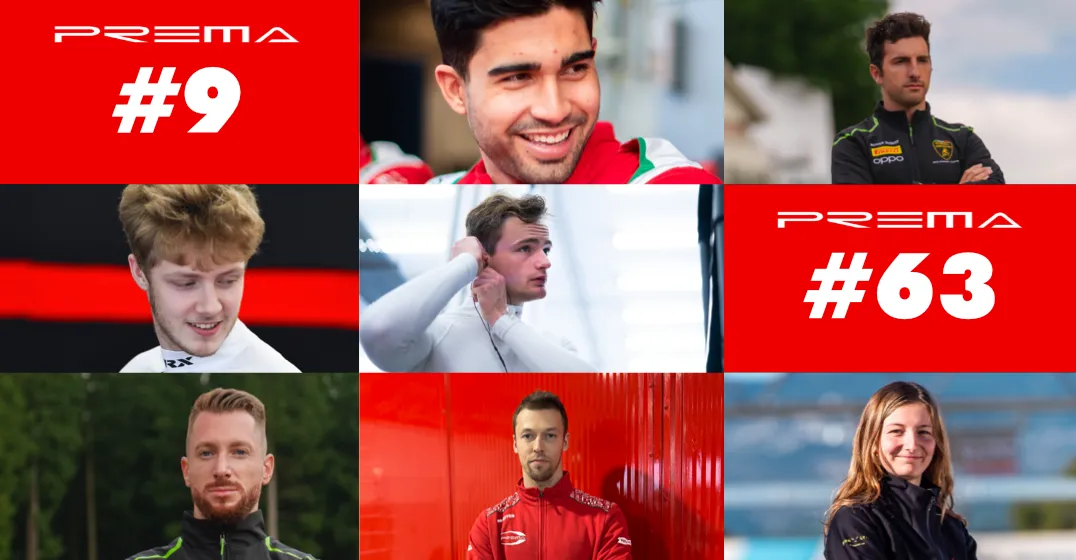 PREMA Racing is proud to announce its full line-up for the 2023 FIA World Endurance Championship. The team will be fielding two Gibson-powered Oreca LMP2 cars in the upcoming series, which will include the centennial running of the Le Mans 24 Hours.
The #9 car will feature the already announced Ecuadorian-American Juan Manuel Correa, and will welcome more high-level talent.
Coming from his LMP2 debut late last year, 20-year-old Romanian Filip Ugran will make a full-time step to prototypes after racing in Formula 4, FIA Formula 3, and Euroformula Open earlier in his career with promising and winning results to his credit.
After partnering with Correa in the post-season rookie test at Bahrain International Circuit, and leaving a strong impression, Bent Viscaal will run for the full season under the PREMA banner. The 23-year-old Dutchman transitioned from single-seaters to prototypes last year, claiming an impressive podium on his ELMS debut at Le Castellet. He later gained more experience by entering his first 24 Hours of Le Mans.
In addition, Andrea Caldarelli will enter the first round of the season at Sebring and in case of further date clashes for Correa with the FIA Formula 2 Championship. The 32-year-old Italian raced with PREMA in single-seaters in 2007 and 2010 leaving extremely positive memories. After his single-seater career, he became a highly-successful GT driver and established himself as a Lamborghini Squadra Corse Factory Driver.
Two highly-successful and experienced drivers will share the #63 car with French Iron Dame Doriane Pin.
A veteran of 110 Formula 1 starts, Daniil Kvyat will make the switch to prototype racing. The 28-year-old claimed three podium finishes throughout his F1 run, scoring a grand total of 202 points after experiencing a successful junior single-seater career. Knowing his outstanding resume and renowned work ethic, the team is eager to start the work together.
Mirko Bortolotti will join PREMA and bring a wealth of experience, having achieved considerable success ranging from single-seaters to touring cars and GT including the Italian F3, Mégane Trophy, FIA Formula Two, and GT World Challenge Europe titles. A Lamborghini Squadra Corse Factory Driver, Bortolotti will bring his expertise as a key asset to the team following a positive 24 Hours of Le Mans debut in 2022.
With the season starting with a 2-day collective test session at Sebring Raceway, which will be followed by the 1000 Miles of Sebring on March 17th, the team is now finalising all details for the challenging year ahead.
#9 - Andrea Caldarelli
"I am very happy to race back with PREMA in this new adventure. I have such good memories with the team from having raced with them in 2007 and 2010 and they were my second family at that time, so I am really looking forward to being back racing with them. It is going to be a new challenge for me, so I am hoping that my already existing knowledge and experience will guide me through this. I would like to thank Lamborghini Squadra Corse and Iron Lynx for allowing me to race in this program."
#9 - Filip Ugran
"I'm delighted to announce that I am joining PREMA Racing in World Endurance Championship! I'm very happy to work with such a competitive and victorious team, with a great history, a team recognised for the ambition to win. Looking forward to a great season with great achievements together with the Team! Ready to race in the 2023 FIA WEC!"
#9 - Bent Viscaal
"I'm very honoured and very pleased to join PREMA for the 2023 FIA WEC season. It's a championship I have always been looking up to as a kid, with the legendary 24 Hours of Le Mans that I already entered last year. This will be my first full WEC season and I'm very much looking forward to the challenge ahead, especially with PREMA as it is one of the best and most successful teams in the world. I'm confident we can achieve great results together."
#63 - Mirko Bortolotti
"I'm delighted to be joining PREMA in the FIA WEC this year. The Team has proven competitive straight away in the championship, so the aim is to continue the good work this season as well as to prepare for the LMDH programme. Big thanks to PREMA and Lamborghini Squadra Corse for the trust and opportunity."
#63 - Daniil Kvyat
"It's a very exciting part of my career to join PREMA and compete in the FIA World Endurance Championship together. The team is very notorious for previous success, and it's now looking to conquer the world of Endurance racing as well. I'm very excited to be part of it and very motivated to give my absolute best to try put ourselves in the top positions."