R01 Red Bull Ring - F1 Academy Race Report
PREMA Racing shows dominant form in inaugural F1 Academy event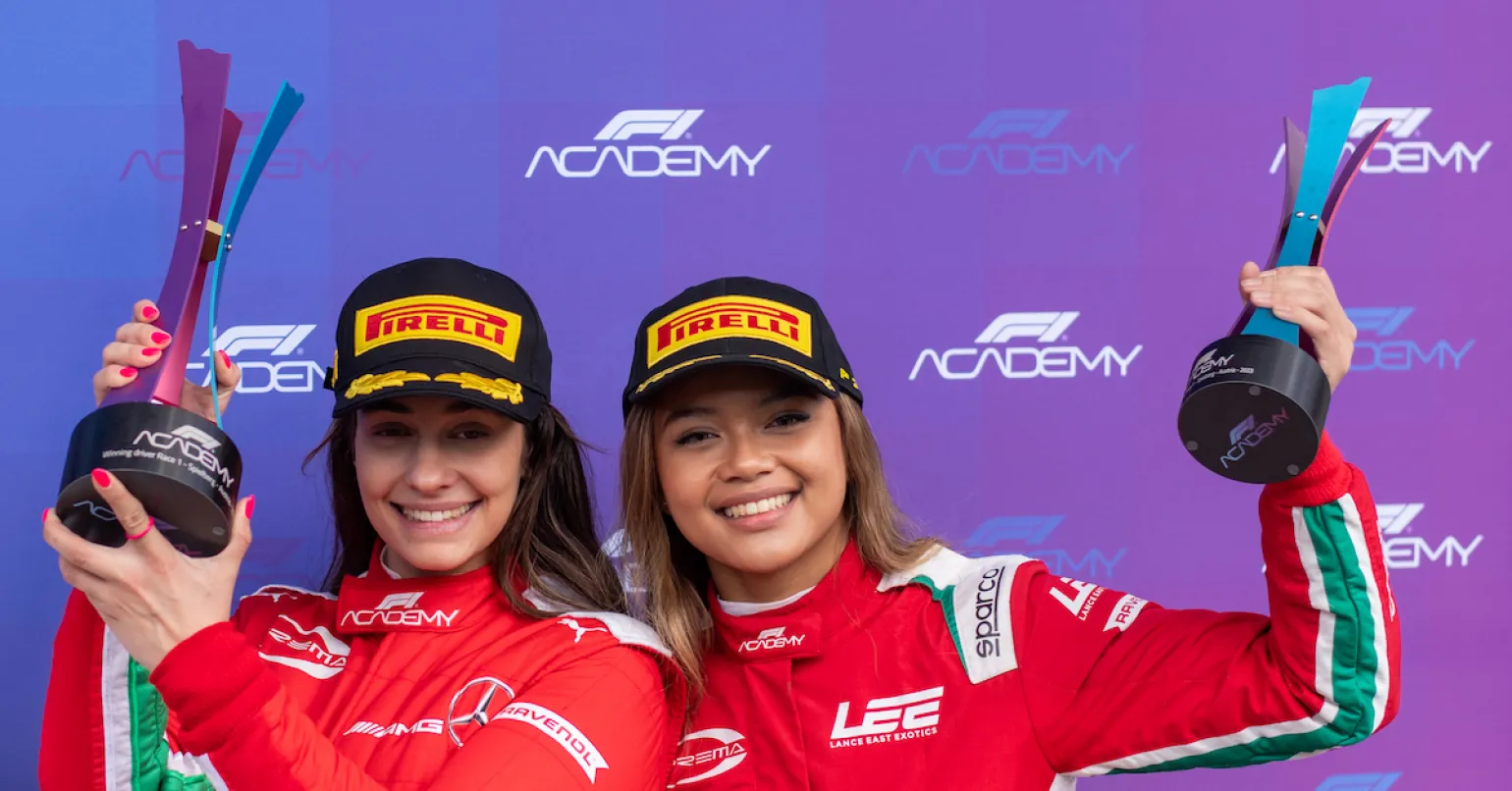 PREMA Racing put up a dominant performance in the inaugural round of the brand-new F1 Academy Championship at Red Bull Ring. The Italian squad lined up for the 2023 opener with the trio of Marta Garcia, Chloe Chong and Bianca Bustamante, and the results came straight away with an impressive pace.
Garcia delivered a sensational performance. The Spaniard posted two pole positions in the qualifying sessions for Race 1 and Race 3 respectively, and sailed to victory on both occasions, even when she had to defend and fight her way back. In the reverse-grid race 2, she completed the weekend with a points finish in P7.
Bianca Bustamante had an equally impressive qualifying performance, taking a double front-row start in P2. In the opening race, she was able to battle with the leading pack and celebrate second place on the podium, before scoring valuable points in race 2. Bad luck hit her in race 3 where she got stuck on the grid due to a technical issue and could not take the start.
Making her debut in single-seaters and car racing in general, British-Canadian racer Chloe Chong left an outstanding impression, and even claimed a superb points finish in race 1, her very first start. She then proceeded to make even more experience in the rest of the weekend as she looks forward to making another step in next weekend's event at Valencia.
#14 - Chloe Chong
"My first weekend in cars, really good starting points for me and I'm really happy for the team that got the 1-2 in the first race. It should have been better for me, especially in qualifying, which messed with our weekend. Overall, I'm quite happy not just with the top-10 finish, but with a top-6 finish in our very first race. We came away with a lot of points that we can work on. We know that our pace is really really good, and it's all about putting it together in the races, staying consistent, and this is the goal we will continue to work on this year. We move to the next one in Valencia next weekend, hopefully, we can pick up some more stuff and take the stuff that we learned here there."
#15 - Marta Garcia
"It was a really good weekend for us here in Red Bull Ring. In race 1 we were on pole and the start was quite OK. I was passed in turn 3 and recovered quickly, but after the safety car, I had a problem with the limiter so I dropped down to P2 again. I tried to see where I could fight back and I eventually managed to pass the other driver, opening a big gap. Then it started raining, and it was a bit tricky so I tried not to risk too much, but still, I had an even larger gap in the end. In race 2 we didn't want to risk it as well, and P7 is fine for the first race with the reverse grid. In the last race, I took off from P1 and the start was positive again. I took a large lead from the beginning. I had the issue with the limiter again, so I lost quite a bit and Hamda was very fast behind. However, I defended well and it ended up with P1 again. I'm very happy with the weekend, I'm really thankful to the team as we worked really well together."
#16 - Bianca Bustamante
"In qualifying we were able to put the car in P2 in both Q1 and Q2 and that set us really really good for the races. The aim for me was really just to maximize the race, every lap, and finish it in a good spot bringing the car back in one piece. We achieved the goal and not only that, we were able to fight within the leading pack and take second place in race 1. We learned a lot, battling with good drivers, and focusing on technique and strategy all the way out. I was able to work mentally as well, to be calm even if I was under pressure. Overall, I think race 1 was really positive, a lot of things to carry over to the next event and for the next few races as well."