R02 Valencia - F1 Academy Race Report
PREMA Racing claims two wins at Circuit Ricardo Tormo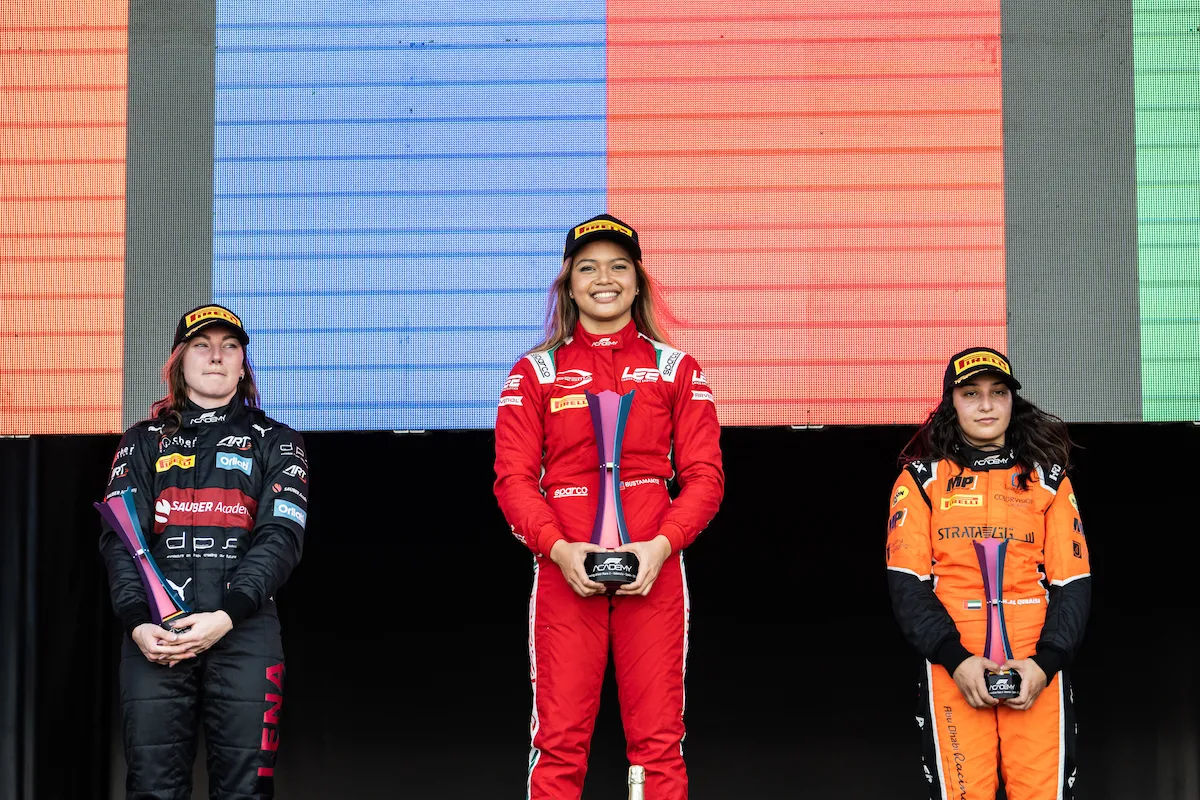 PREMA Racing secured two wins at Valencia in the second round of the F1 Academy series and retained the lead of the driver and team championship at the twist Spanish circuit.
The team started strong with a double pole in qualifying with home driver Marta Garcia. However, a raft of track limits penalties impacted the results, which demoted Garcia to the back of the pack and forced her to a recovery drive. But it was only a matter of time for the team to fight back.
In race 2, Bianca Bustamante delivered a thrilling run to take her first win of the year. The Filipino racer fought hard all race long, fending the attacks of several competitors and eventually prevailing to secure the top step of the podium. In the other two races she brought home great points despite also being impacted by the track limits issues from qualifying-
In race 3, Garcia re-emerged as the dominant force seen at Red Bull Ring, but by that point, her potential could be clearly seen. Having to start from the back of the pack after qualifying, she had claimed P6 in race 1 and P5 in race 2. Then, starting from the pole, she put up a stellar display by leading every lap of the final race to secure victory.
While she continues to lead the series and will soon head to another home track for round 3 at Barcelona, PREMA Racing increased its lead in the team standings and is looking forward to the next challenge.
#14 - Chloe Chong
A progressive race weekend for me. Race 1 was a bit frustrating, due to my mistake while we were actually running 5-6-7. It was the end of my race but of course, we can learn from it for the next ones. In race 2 I got my first front-row start in second. The good things to take away are that I got a good start, and after that, we just kept putting laps in, and we kept the position. Unfortunately, we got a bit unlucky with the safety car restart, but we came away with sixth, so I was happy with more points in the bag for my first season in cars. The goal for me is to keep chipping away which we kept doing. In race 3, we had some really old tyres due to our strategy in qualifying, and we didn't really have much pace. The good thing is that we kept putting in consistent lap times. In the end, we had a bit of an accident with another driver who tried to turn into us in turn one.
There was nothing we could really do and a penalty was applied, but it was a good race overall. We take away the learning points for the next one in Barcelona.
#15 - Bianca Bustamante
"We started quite well. I was on pole for qualifying 1 and 2, but I had almost all my laps deleted in Q1 for touching the white line at the entry of turn 1. It was nothing in terms of performance, but still track limits. It was frustrating to lose the chance to start first in race 1, and in the top-8 in race 2, but we focused ahead. In race 1, I knew I had to recover positions for the championship. I started in P12, and I did some good overtakes to finish P6, nothing more I could do as there were no safety cars. In the second race, which gives fewer points, I started in P14 and ended up in P5, which was quite good. For the final race, we were starting from pole. I had a good start and opened a gap to the P2 and P3 drivers in the first laps. I was keeping it quite safe. We got a safety car around lap 13, and when it came in I knew that Nerea in P2 was fast. We had a really good restart though, and I also knew she would probably struggle with dirty air. I manage to pull away and finish with a good gap. Really happy with the win and with the work, it's a bit of a shame for qualifying 1, because it would have been better, but we head to another Spanish track, Barcelona, which I really like. Testing was quite ok, I think we just have to work in the direction we know, and it should be fine."
#16 - Marta Garcia
"We showed a really good weekend despite everything that happened during qualifying and being demoted. We were focused on coming back, doing damage control and maximising every point that we could get for the championship. For race 1 we made sure to keep our noses clean, be smart and move up the ladder. Starting from P8, we made up three positions and finished in P5 which secured us quite a lot of points. Starting P8 in race 1 meant that we got pole position for race 2, so we had a mindset of eyes forward and not thinking about anyone behind. It was amazing for me, I led from lights out to the finish line. Even if in the last three laps I felt the pressure from behind, I just made sure I was keeping my calm and following the inputs of my engineer. In the end, I was able to secure my first win of the season and my first career win. The national anthem was played on the podium, a memorable, memorable moment in my career. For race 3 we started in P13 due to what happened in qualifying, so it was again a matter of maximising what we could get, which we did. We went from P13 to P7, in a good recovery drive from me and the whole team. Overall, a good weekend, we scored points in all races and that was the target. Moving forward to Barcelona, we have the confidence and we'll see from there."