PREMA Racing welcomes young children to support STEM awareness
F2 and WEC racers highlight workshop visit in highly-successful event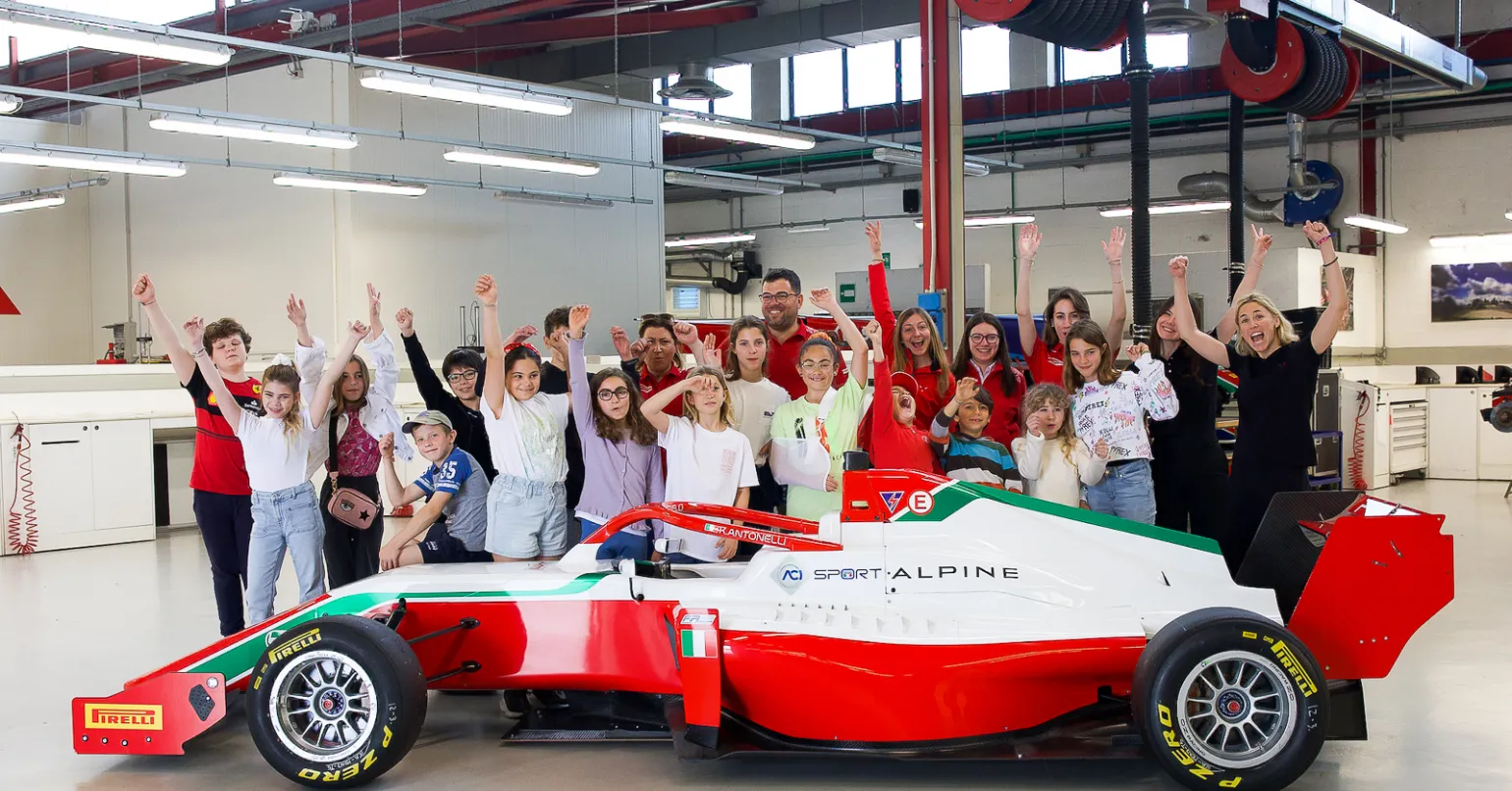 PREMA Racing welcomed a group of young children to its headquarters last Saturday in a ground-breaking event aimed at promoting the study of STEM disciplines (Science, Technology, Engineering and Math) in collaboration with Iron Dames and British firm Enovation Consulting Ltd. as a part of the Positive Impact School Programme.
The highly-successful initiative saw the kids, aged 9 to 12, visit the team's factory and interact with experienced motorsport professionals. They had the chance to meet with engineering and management figures, as well as highly-successful drivers like Formula 2 stalwarts Ollie Bearman and Frederik Vesti, young sensation Doriane Pin and highly-successful pro competitor Rahel Frey.
The goal was to highlight and support the interest of kids towards STEM subjects and promote problem-solving, creativity, and the application of new skills. In a field like motorsport, where innovation and forward-thinking are key, generating true inspiration towards science and engineering at a young age can and will make a difference for both the future of the sport and the sustainability of the whole community.
The event also focused on removing the barriers around female access to the STEM sectors. Having experienced so much success and achieved outstanding interest from the kids and partners alike, the event will be replicated in the near future to continue supporting its positive movement.

Rene Rosin - Managing Director, PREMA
«We are absolutely proud of the resounding success achieved by this event. Having so many kids in our workshop was outstanding and we were actually surprised and amazed by their genuine interest towards engineering disciplines. We feel we really inspired a young generation today, and that our efforts will produce a positive impact. We are also grateful to Doriane Pin and Rahel Frey for having been part of this with their excitement and professionalism. We cannot wait to continue this project and welcome more children again in the future.»
Deborah Mayer - Founder, Iron Dames
«I think it is crucial to inspire and connect young women, motivating them to chase and achieve their dreams not only in motorsport but in all aspects of life, starting from the professional environment. The main purpose of the Iron Dames project is to increase the inclusion of women in sports at all levels in all professions . By promoting STEM sciences among young girls, we can raise awareness on the possibilities open to them, which is crucial for their future. Our message is also more global for all girls that there are no insurmountable barriers in any area.»