R02 Barcelona - Formula Regional European Championship by Alpine Race Report
PREMA Racing, Antonelli secure two podiums in Barcelona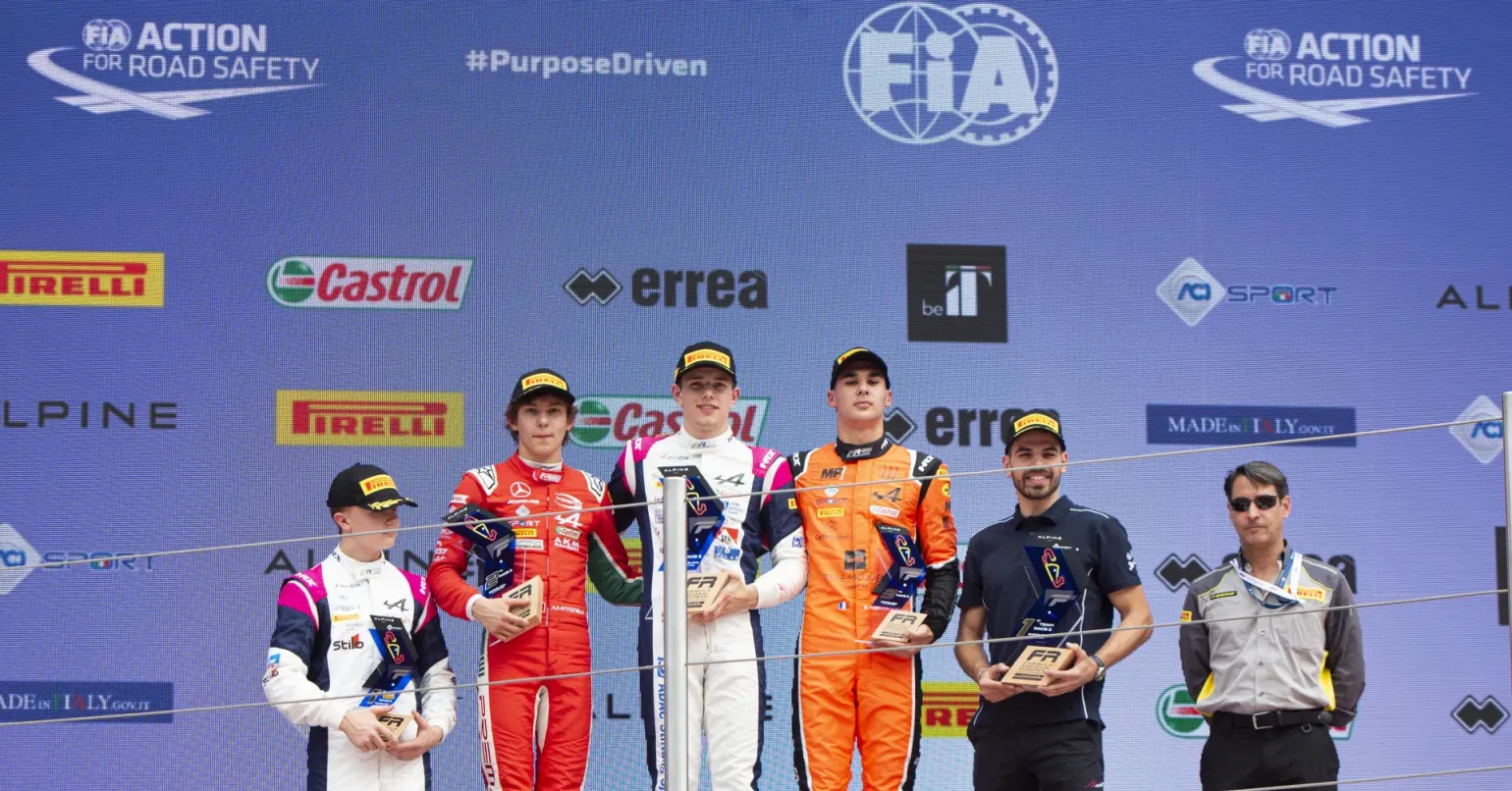 PREMA Racing claimed a double podium finish at Circuit de Barcelona-Catalunya, as the team lined up for the second round of the 2023 Formula Regional European Championship by Alpine. Coming from a challenging iweekend in Imola, PREMA provided a strong rebound, taking one pole and two second-place finishes with Andrea Kimi Antonelli.
Both races were decided at the start as, despite the safety cars and a red flag in race 1, overtaking turned out to be really tricky, even with the new-for-2023 faster track layout for the penultimate corner. In addition the anticipated rain never really impacted the proceedings. After trying to attack early, Antonelli focused on maximizing the points. The Italian made a great jump in standings where he's now second, four points away from the lead.
Spaniard Lorenzo Fluxá showed a positive pace and particularly maximized the first race, where he went from the second row on the grid to P4 at the end. A complicated Qualifying 1 session (which set the field for Race 2) forced him to fight in the pack. He eventually gained one spot compared to his starting position to P11.
Rafael Camara also had an up and down weekend. The Brazilian was sixth in the second race but paid the price of a challenging qualifying 2 session that hindered his progress in race 1, where he also finished in P11, the same spot where he had started.
The series will now be back in mid-June at Hungaroring in Budapest.
#7 LORENZO FLUXA
"We knew that it would have been a tight weekend. We had postseason and preseason testing here so everyone had a lot of mileage and it was tight as we expected. We also expected qualifying to be really important as it's really difficult to overtake here even with the new layout, and it was the case. We missed the first qualy, we were not on it, but we were better in the second, and when we started in front in race 1 we managed to do a decent race and finished P4. In race 2, which was based on the qualy we missed, we made up a few positions. Overall, there are some positives but we need to work hard, and I'm really looking forward to keep pushing at Hungaroring."
#8 RAFAEL CAMARA
"I think the pace was good. Unfortunately, we couldn't set the car up the way we wanted in practice, but the first qualifying was good. We had things to improve, but we were there. In qualifying 2, we had some struggles with the set-up and started a bit at the back. In race 1 I lost some time with another car as it's really difficult to overtake here, but when I was alone, the pace was really good. In race 2 we could have been faster, but we scored good points for the championship, and now we keep working and improving for Budapest."
#12 ANDREA KIMI ANTONELLI
"We made a really good comeback after Imola. With a better start maybe I could have fought for the win in the first race, but the pace was really strong in qualifying and race conditions and we took two podiums that are very important for the championship. There are great positives to take to Budapest. We will have a bit of a break to think about what we can improve because it will be another track where it's very difficult to overtake and qualifying will be key again."