R07 Spielberg - Formula Regional European Championship By Alpine Race Report
Camara takes win, Antonelli extends series lead at Red Bull Ring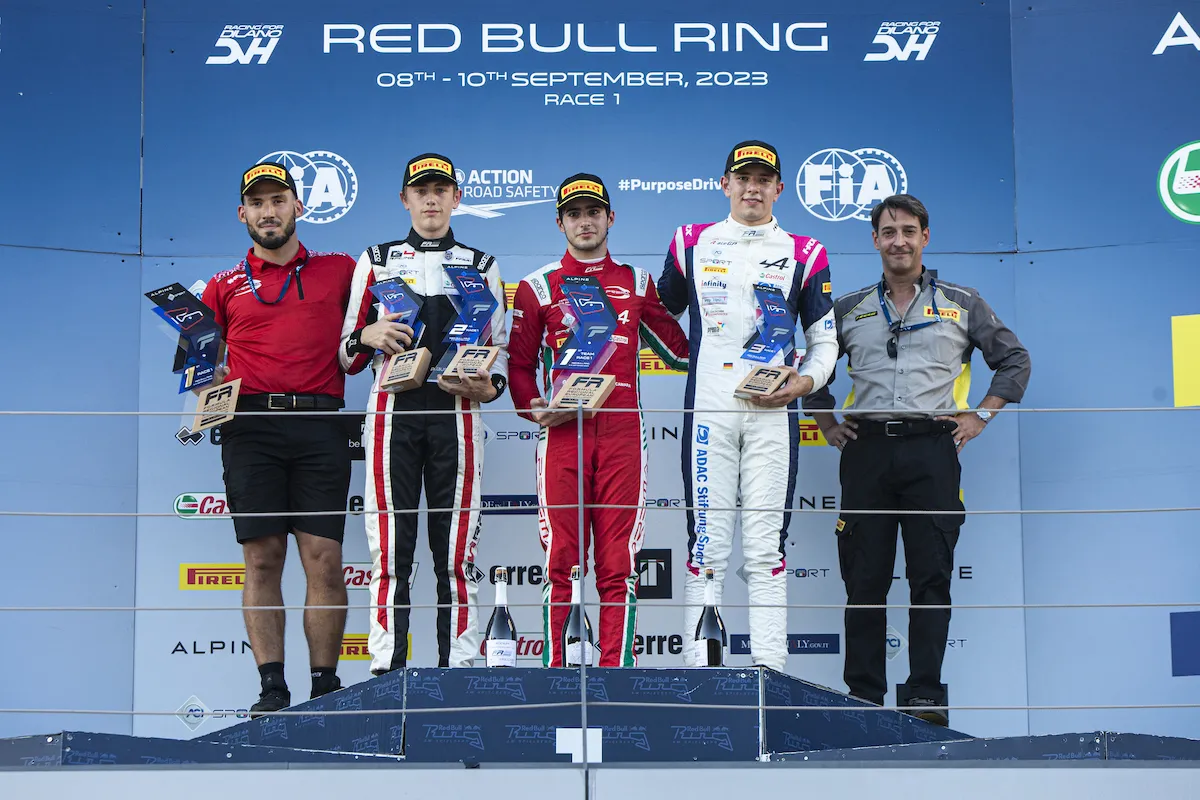 PREMA Racing experienced a positive weekend at Spielberg, as the Formula Regional European Championship by Alpine went underway for round 7 at the technical Austrian venue.

The team showed high performance since practice, with Rafael Camara leading the overall lap time list on Friday. The Brazilian continued to impress with a stunning pole in qualifying 1, and never looked back in the opening race, cruising from start to finish and surging to his second win of the year.

Camara had a more complicated experience in qualifying 2 to score P10 and was involved in early contact in race 2, ending up with a DNF.

Andrea Kimi Antonelli also had an extremely valuable run. The Italian earned a great amount of points and increased his cushion at the top of the drivers' standings. Antonelli posted fourth place in race 1, gaining one spot compared to his qualifying position. Then he achieved third place in race 2 after a hectic start and a penalty that elevated him from P4. It was another major gain in terms of points compared to his closest competitor.

Lorenzo Fluxá had outstanding potential all weekend. Unfortunately, racing variables got in the way. A penalty deprived him of a top-5 result in race 1, while traffic impeded his qualifying 2 lap, which led to a recovery drive and P8 in race 2.

The FRECA championship will be back on track this weekend at Monza.
#7 - Lorenzo Fluxa
"Tough weekend. The potential was really high, and the speed was quite good, but we didn't manage to put the weekend together, getting a penalty in race 1 and traffic in qualifying 2. Overall, it was a positive start but nothing came our way. I'm looking forward to getting back at Monza, showing pace again and being stronger than ever."
#8 - Rafael Camara
"It was a good weekend, where we clearly had the pace. We were fast from the test we had there. There were a few things to correct, but I think in qualy 1 we were fully ready, conditions were perfect for us. We put everything together in qualy and in race 1. The team and myself did a very good job. Sunday was a different story, up and down. We got P6 in qualy which became P5. We could have been better but we had a red flag in the middle of the session which was a bit of a mess with tyres and everything. The race started well but was very short unfortunately, we should have scored good points with the potential we had. Now we will focus on Monza and try to be consistent there."
#12 - Kimi Antonelli
"It hasn't been an easy weekend. I had a bit of a messy qualifying 1, and made a small mistake in my last lap ending up P3. Starting from fifth place in race 1, I managed to gain one spot at the start but it was very hard to overtake so I stayed in P4 all the time. It went better in qualifying 2 where I got P1 but still lost the overall pole due to a track limits violation. I had a good start in race 2 from the front row. I even made my way to P1 but a couple of events went against us. I dropped to P4, where I stayed until the end again but I got classified P3 following a penalty ahead. Not the weekend I hoped for but now we have Monza to bounce back!"