R07 Bahrain - FIA WEC Race Report
PREMA Racing captures double top-5 finish in 2023 WEC finale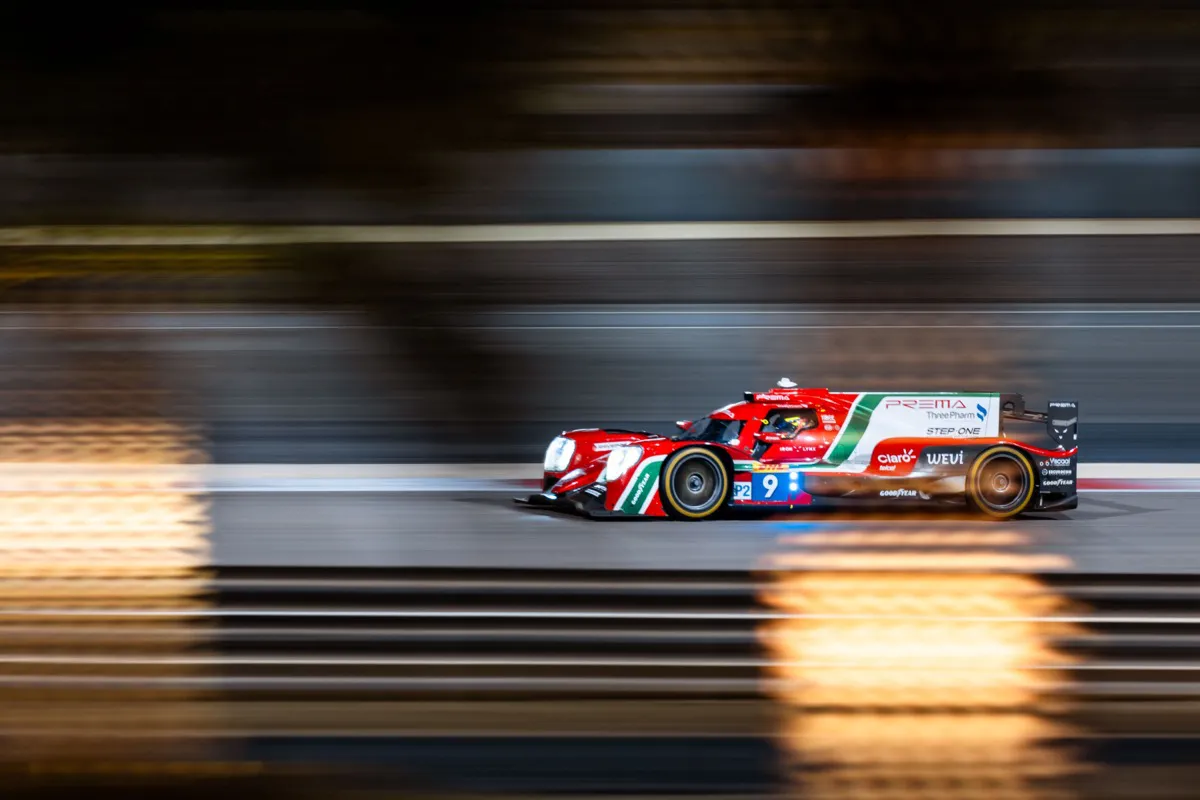 PREMA Racing battled for the podium today around Bahrain International Circuit, ending up with a double top-5 finish to wrap up its second FIA WEC campaign in the LMP2 class.
Taking off from P6, the number 9 car was off to a smooth start, with the trio of Juan Manuel Correa, Filip Ugran, and Bent Viscaal chasing a potential podium all night long. Unfortunately, the strategy didn't turn out in their favor, and contact from behind put another dent in their chances for the night.
Despite a valiant chase by the Dutchman in the last hour, and the smooth runs by the American and the Romanian, P4 was the maximum achievable result.
The #63 car had a rougher start from P8 as Doriane Pin was involved in an early melee that caused front-end damage and that forced her, Daniil Kvyat, and Mirko Bortolotti to recover from the. Pit-stop gremlins including a starter issue further hampered their chances and the trio had to settle for P5.
As the season draws to a close, PREMA will focus on its future endurance endeavours, supporting the Lamborghini Iron Lynx programme in the 2024 FIA WEC and IMSA championships.
#9 - Juan Manuel Correa
"It was so close yet so far! I'd say it was one of our stronger races so far this season, it's a shame that it's the last one. I'm pretty happy. For the majority of the race, I thought we would get that podium because we were there. We have just been caught out a little bit with the fuel saving and didn't realize that people were going for that strategy until it was too late. Maybe not the best call, but it is what it is. I enjoyed it and enjoyed my stints. We had a good fight with our sister car, playing cat and mouse for most of the race. A big thank you to the team and teammates. I'm not sure when I'll be back in endurance for now, I'm happy to close this chapter so far in a positive way."
#9 - Filip Ugran
"We repeated our best result of the year like in Spa. We had the potential to even contend for the win as we were all quite quick. I'm very happy with the beginning of the race, I took the start and got straight to P2. I managed to keep the position like my teammates did as well for most of the race, but in the closing stages, the top three finishers did one less stop. We are happy with what we have done, but still a bit bitter as we were really close to the podium. Still, it is what it is and there is always time to do better."
#9 - Bent Viscaal
"I look back at this weekend as a very positive one. Fuji was the hardest weekend for us as a team, and being able to bounce back like this shows the top team that PREMA is. We would have all liked to end the season on a high. For our strategy, we were pretty much leading. With a little longer race, we would have been in the sweet spot, but it didn't happen and that's the only thing I can say about today's strategy. P4 is good. We still haven't managed to get the podium all season long, which is the negative part, but I can only say thank you very much to PREMA for making me a more complete driver, teaching me so many things, and looking at the races in a different perspective that all the other teams had done so far. To see a pace like this is also thanks to a team that coached me in the right way. Thank you to everyone, all the best for the future!"
#63 - Mirko Bortolotti
The potential was there, and the pace was there, which pleases me a lot. I'm also happy with my performance. The whole team did a good job to prepare the race. At the end of the day, we had some little issues at every pit stop that cost us five to six seconds at each stop. If you sum them up, that would have put us in a much better position. There is always something you can learn and improve for the future. We will analyze everything and make sure we come back stronger next year.
#63 - Daniil Kvyat
"It's been an eventful race as usual in the WEC, as a lot can happen in eight hours. We started off with a few little setbacks, we lost some time in a pit stop and dropped to the back. Then, we gradually made our way back to the top-5. It was a long climb, and you might find yourself in very tricky track positions like I found myself sometimes in. Sometimes I had a free track, and others, I was in the middle of heavy traffic, which can ruin your tyres. We did a smooth job in climbing back to P5. We need to analyze what others do to be so far ahead, and what we don't do. It was a lot of learning this year, and I'm sure we can take a lot of experience into the next."
#63 - Doriane Pin
"The start was unfortunate, I couldn't do anything as a lot of cars were spinning around and it was impossible to avoid them, plus somebody pushed me from behind as well. The positive thing is that we were able to regain some of the time we lost when we changed the front bodywork at the first pit stop. The start was really tough with the conditions, the heat, and the tyre degradation but we managed it well. The second stint was very quick too, but we still missed something to get to the podium. I want to thank everyone on the team as we did a good job this year. It was a pleasure to work with PREMA. I learned a lot by working with an experienced team and experienced teammates. I'm happy about this season and I wish all the team members the best of luck for the future."