SJM Theodore PREMA Racing delivers dominant Macau Grand Prix win
The team put up a stellar performance with a podium lockout in the Qualifying Race and a 1-2 finish in the Final Race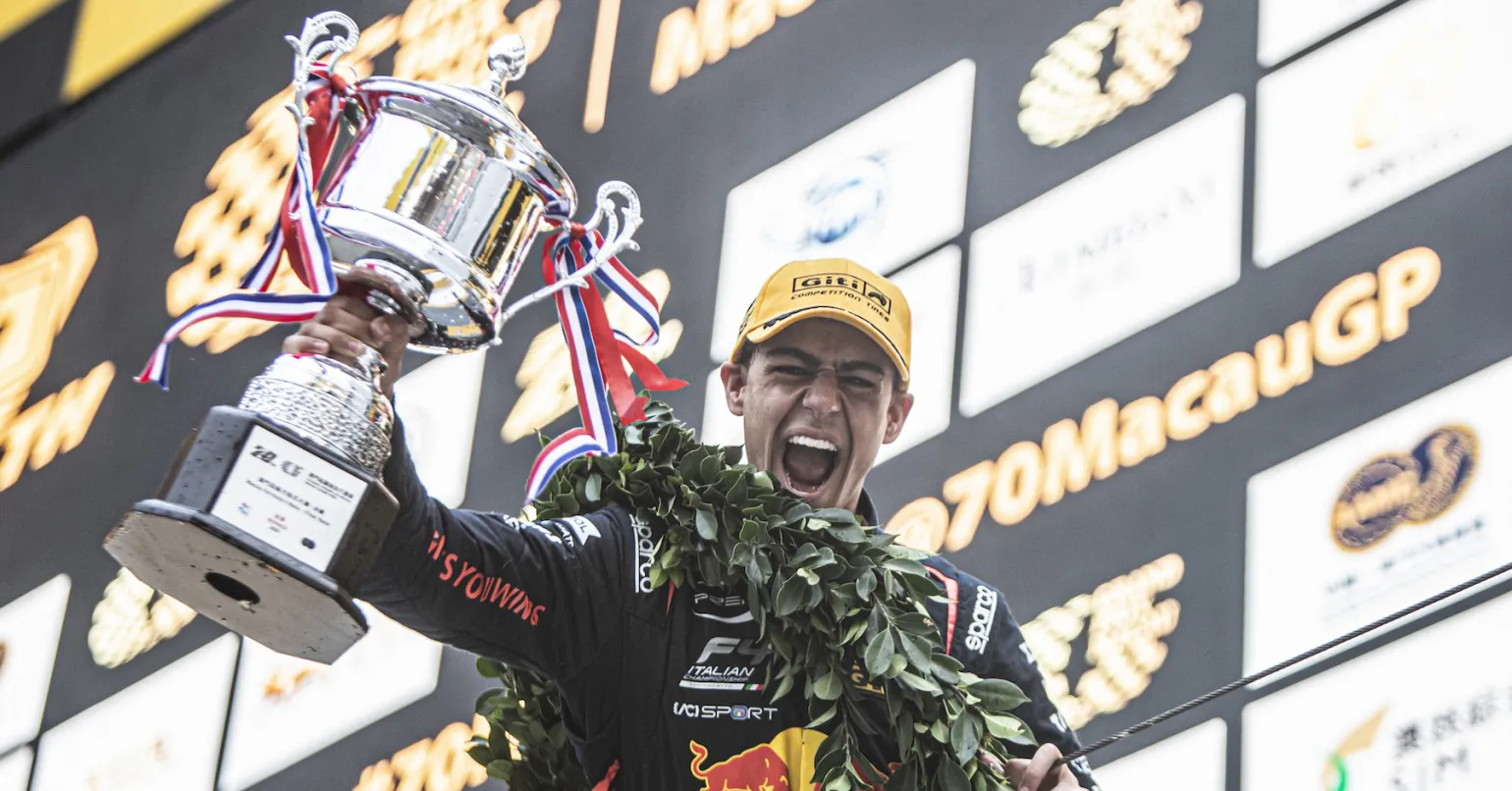 SJM Theodore PREMA Racing secured a dominant win in the 70th Macau Grand Prix Formula 4 Race, with 16-year-old racer Arvid Lindblad cruising to a dominant victory in the Qualifying Race and leading from start to finish in the FINAL Race. The Red Bull Junior driver had an amazing day, while the whole team celebrated an outstanding performance at the historic Guia Circuit, contending with all cars and
Macanese racer Charles Leong had a superb run as well, starting fourth in the Qualifying Race and moving up to second place in the Final Race, even contending for the win early. Leong put up a strong defence from PREMA Racing's Rashid Al Dhaheri, who completed the podium.
A potential podium lockout for SJM Theodore PREMA Racing, which was achieved in the Qualifying Race, was prevented by an electric issue that cost Freddie Slater several positions. The 15-year-old British racer had an extremely positive pace all weekend, and even managed to finish in the top-10 with phenomenal speed after the setback.
As the 70th Macau Grand Prix heads for its second week, SJM Theodore PREMA Racing braces for a legendary return, with the stars of the FIA Formula 3 World Cup taking the center stage and the team hoping to secure another record-breaking result.
Teddy Yip - Team Principal
"Wow, what a victory! It's fantastic to see young talent express their amazing skills around such a technical circuit. For the past two days, our three drivers showcased excellent performance. Huge congratulations to Arvid and Charles for this afternoon's results. Freddie performed brilliantly this morning to score second in the Qualifying Race, and was faced with a case of bad luck in the Final Race, but still had an outstanding pace. I cannot wait for the week ahead!"
#11 - Charles Leong
"I'm super happy with this weekend and with the Final Race. I had a shot to attack for the win, and I also got a bit of pressure from behind in the end. Even if it takes time to learn the car, I hope to have the chance to do it again in the future. Now I understand myself more and know a bit more what I'm capable of. It's definitely an honor to have raced in an international field with SJM Theodore PREMA Racing."
#23 - Arvid Lindblad
"It was a fantastic day, and I'm super happy. We had a bit of a difficult situation this morning, with unexpectedly wet conditions. We had to react quickly with no references and no idea of what was going to be like. I think we did a great job, and we tried to keep the same pace for the afternoon. It was a really good race. I knew it was important to try and maintain the lead. It was close, but I managed to hold on for the win. I'm really grateful to SJM Theodore PREMA Racing and everyone here in Macau for organizing such an amazing weekend."
#27 - Freddie Slater
"Awesome week here in Macau, what a race! I can't wait to come back here hopefully next year, and more years after that. I couldn't have done it without SJM Theodore PREMA Racing. They did a cracking job all weekend. Just an unfortunate issue in the final race, but that's motorsport at the end of the day but we showed everybody what pace we had."