Minì, SJM Theodore PREMA Racing claim podium finish in Macau F3 Qualifying Race
The 70th Macau Grand Prix will come to its most exciting moment tomorrow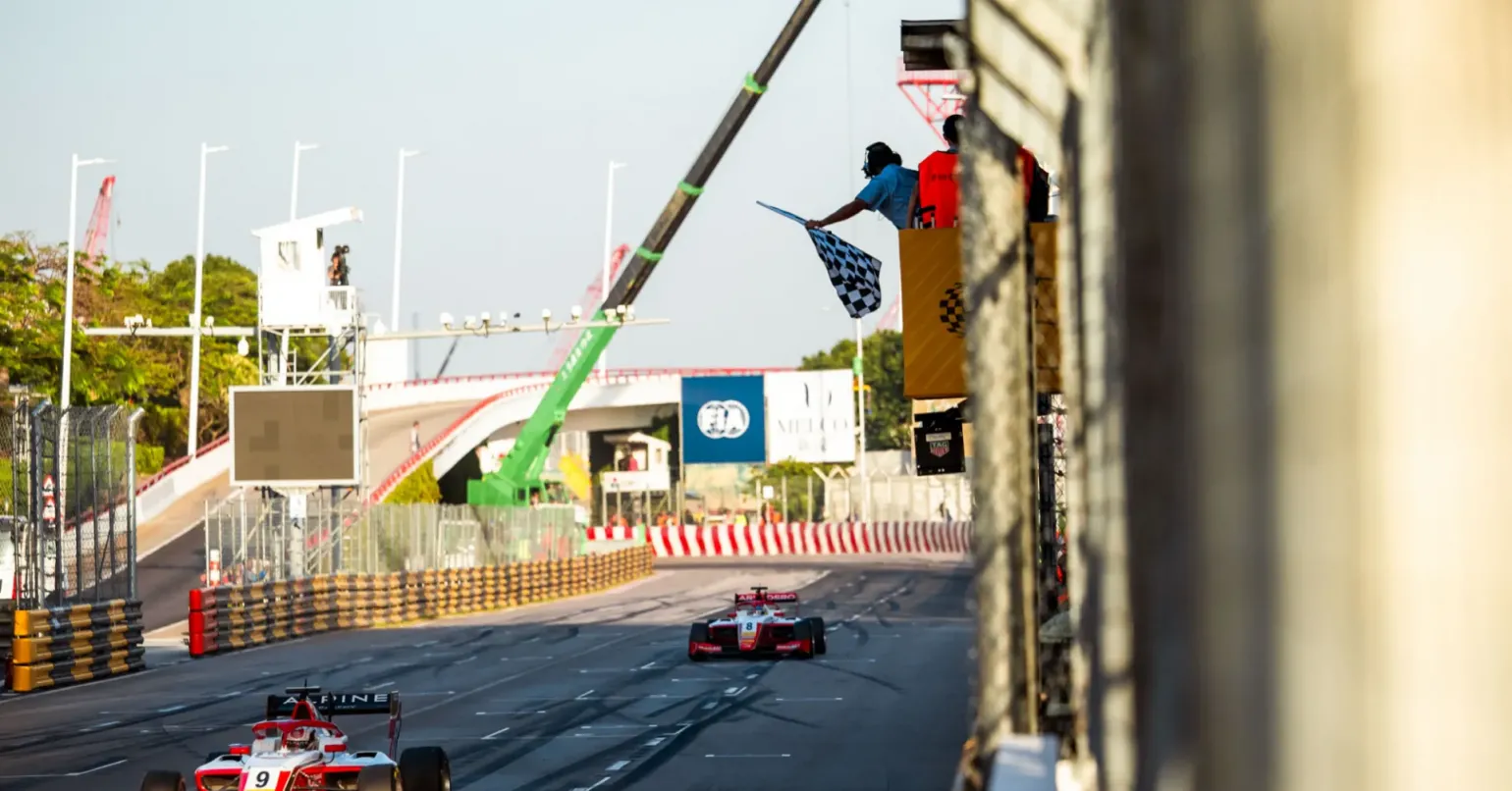 SJM Theodore PREMA Racing achieved a brilliant podium finish today in the Qualifying Race for the 70th Macau Grand Prix - FIA Formula 3 World Cup. Starting from the front row, Gabriele Minì put up a hard-fought performance, battling among an extremely competitive pack with a fierce run between the challenging streets of the Guia Circuit. Minì secured third place at the end of the day and will start the Final Race of the weekend from the second row.
Teammate Dino Beganovic ended up in his slipstream in P4 and will start the Final Race from row 2. The Swede will have equally good chances of fighting back starting from the long run to Lisboa as the return of Formula 3 at Macau approaches its most exciting and moment.
Starting from P14 after a challenging qualifying session, Paul Aron put up a sensational display of pure racecraft. The Estonian gained seven spots in the opening lap, even going three wide at the start, and picked up another position not much later. Battling his way through the field, he finished in P7, a starting position that will give him plenty of chances to aim for the podium or even victory.
As one of the world's most anticipated events comes to its most intense moments, SJM Theodore PREMA Racing is aiming for a history-making day tomorrow.
David Kennedy - Managing Director
"I think we can really be proud of our team performance today. Not only have we finished on the podium in the Qualifying Race with Gabriele, but we also secured promising starting positions to fight for victory in tomorrow's Grand Prix. Dino had a spotless day and got the best result he could, while Paul was absolutely fantastic. The way he went through traffic was incredible and a testament to what it takes to master Macau."
#8 - Dino Beganovic
"Honestly I'm a bit disappointed with how the race went but we can't be too hard on ourselves, we still have a good starting position for tomorrow's race, which is the most important one. I didn't want to take too many risks, but maybe I was a bit too careful. We need to make a step tomorrow as a team. I'm sure we will have a look at the data and work hard tonight to be faster than our competitors tomorrow."
#9 - Gabriele Minì
"We had really good pace from Free Practice and Qualifying. Today we were probably not the quickest. I tried to overtake into turn 1 twice and maybe I let the door a bit open for Like and Alex, but you don't want to be the guy three-wide on the outside of turn 3, which is never going to end up well. I didn't have the pace to overtake them today, but we will be working hard tonight to be fast tomorrow. We will watch the data and try to make it work tomorrow!"
#10 - Paul Aron
"I'm pretty happy. I think the race was successful, our goal was to put ourselves in a good positions for Sunday. I think P7 is a place that you can even win the race from, and I'm delighted to have made these places up today. Generally, it was an opportunistic race and I took advantage of all opportunities. We struggled a bit with pace, but that's definitely something we can analyze and work on for tomorrow. Going from P7 with a good pace, we will definitely have a chance."